Bad Breath
What is Bad Breath?
In general, bad breath is a problem that can disturb both the person and those around him. One of the most valid reasons is that the person cannot fully provide oral hygiene. But bad breath can also be caused by various diseases. The most important thing to be done by the person in this regard is to ensure oral hygiene regularly.
If bad breath persists despite oral hygiene, there may be a different problem. Although oral hygiene is taken care of, it is natural to wake up with bad breath in the morning. Halitosis problem should not be confused with this. Sometimes, the person may think that he/she has bad breath even though he/she does not have bad breath. In this case, it would be healthy for the person to see the dentist.
Oral health is more important than expected. It's not just a scent. Because for many reasons, bad breath can occur and many different problems can arise through odor. When the teeth are not brushed, the gums may be damaged or calculus may appear. These are the most known and treatable problems that can cause bad breath. Besides these problems, of course, there are other reasons as well.
What Kinds of Causes of Bad Breath Can Be?
In cases where tooth brushing is irregular, the causes of bad breath can be listed due to unhealthy diet and some ailments. Oral fungal infections, dental caries, sinusitis, tonsillitis, stomach and intestinal diseases, mouth open for a long time, alcohol, cigarettes and tobacco products, diabetes, dry mouth, nose and nose diseases and kidney diseases can cause bad breath. However, bad breath is not exactly a symptom of these disorders, and bad breath is not a major disease. Bad breath, which occurs for more visible reasons, may also have invisible causes that need to be investigated. Liver failure, diabetes, pharyngitis, adenoid and throat diseases, reflux, stomach diseases can be shown among the causes of bad breath.
What is the Treatment of Bad Breath?
First of all, it would be best to determine a treatment method based on the main cause of bad breath. In other words, bad breath caused by not brushing the teeth regularly, unhealthy diet. In fact, the ideal solution to this problem is to brush regularly and use mouthwash regularly. In addition, dental floss can be used for deposits and food residues. Teeth should be brushed 3 times a day for at least 2 minutes with fluoride toothpaste. After each meal, residues should be cleaned with dental floss.
If bad breath persists after these methods are applied, there may be other reasons. At the same time, if there is a caries or infection in the teeth, it is necessary to see a dentist.
How is Bad Breath Treated?
For the treatment of halitosis, it is the most important to apply to a dentist first, and it is absolutely necessary if there is bad breath. The dentist can rate how exhaled breath smells on a scale and analyze the cause. Since the back of the tongue is the most common source of bad breath, the dentist can scrape it with a tool and evaluate its smell. If bad breath is caused by a caries, your dentist will tell you what kind of treatment should be done here, and he will talk to you about this situation and determine the treatment method.
Mouthwashes and toothpastes are an effective method to remove bad breath. If bad breath is caused by bacterial buildup, the dentist may recommend mouthwash. Apart from this, a toothpaste containing an antibacterial substance may also be recommended.
One of the causes of bad breath can also be dental diseases. If the person's gum disease is detected, the person is referred to a gum specialist (periodontist) and can be treated in this way. Gum disease causes the gums to recede. This situation paves the way for bacteria that cause bad odor to settle in these gaps. The bacteria here can only be cleaned by a dentist.
If the dentist you go to because of bad breath finds your teeth and gums healthy, they can send the patient to a different specialist for the treatment of the source of the smell. Antibiotics are used to treat infections, and reflux is treated with diet and drugs that reduce the effect of stomach acid.
How to Remove Bad Breath?
The most important factor in passing bad breath is the person himself. There are applications that you can do at home to reduce or eliminate bad breath and are recommended by experts.
Brushing your teeth after eating will prevent bad breath. You should have a toothbrush with you to use after eating outside or at work, near the home environment. You should brush your teeth with a fluoride-containing toothpaste at least twice a day after meals. It has been observed as a result of scientific research that toothpastes with antibacterial properties reduce bad odors.
Again, using dental floss to remove the residues formed on the teeth after meals and before going to sleep eliminates bad breath. Using the right dental floss removes food particles and plaque from your teeth and helps prevent bad breath.
Brushing the tongue while brushing teeth is also very important in terms of oral hygiene. The tongue, like the teeth, harbors bacteria in the mouth and this causes bad breath. so brushing carefully can reduce bad breath.
Smoking is one of the biggest friends of bad breath. Individuals who experience dry mouth are more prone to having a tongue covered by bacteria. For this reason, it is beneficial for such people to use a special tongue scraper. A toothbrush with a built-in tongue cleaner can also be used. It will also be beneficial to avoid dry mouth in order to prevent bad breath. Keeping the mouth moist prevents dry mouth and is therefore necessary. Of course, for this, it would be beneficial to stay away from tobacco products and consume more water. It is necessary to limit drinks such as coffee, sodas or alcohol that can cause dry mouth. Sugarless gum can be chewed to stimulate saliva.
For chronic dry mouth, your dentist or doctor may prescribe an oral medication that stimulates saliva flow. Eating healthy is good for bad breath and overall health. Avoiding foods such as onions and garlic that can cause bad breath also reduces bad breath. Likewise, eating sugary foods is also directly related to bad breath. Bacteria can grow on the toothbrush. This is a natural situation and it is necessary to sterilize toothbrushes well. But the healthiest thing to do is to buy a new toothbrush soon and regularly. A toothbrush should be changed every three to four months. Oral and dental health is extremely important. Therefore, it is necessary to visit your dentist at regular intervals both to eliminate bad breath and to prevent other oral and dental diseases.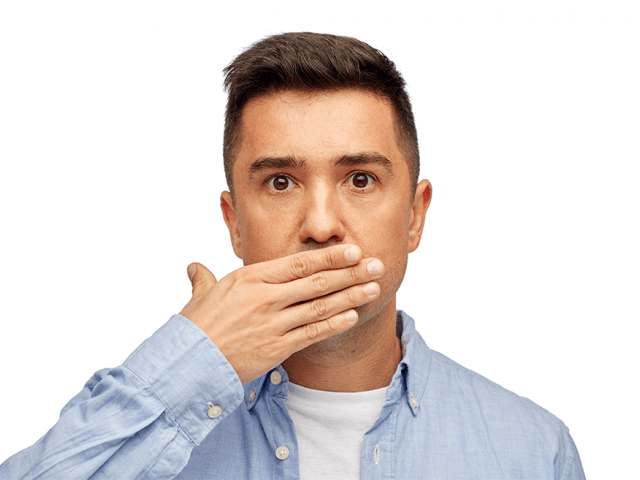 Our Clinical Information
He was born in 1981 in Zile district of Tokat. Starting primary school at Rize Atatürk Primary School, Dr. Deniz Yazıcı continued his education life in the Ergani district of Diyarbakır, since his father's place of duty changed since the 4th grade of primary school.