Nose bleeding
What is Nose Bleeding?
Nosebleeds are not usually serious problems. Most nosebleed problems, which are more common in children, are easily treated without going to the hospital. However, in some cases, nosebleeds may require emergency intervention.
Cases of nosebleeds that are not urgent, but need to go to the doctor:
Nosebleeds in a child younger than 2 years old
regular nosebleeds
Nosebleeds in people with symptoms of anemia
Nosebleeds in people taking blood-thinning medication such as warfarin
Bleeding in people with diseases that negatively affect blood clotting, such as hemophilia
Nose bleeding situations that require rapid intervention and need to go to the emergency room:
Unstoppable nosebleeds lasting more than 15 minutes
Excessive and unstoppable bleeding
Swallowing large amounts of blood as a result of nosebleeds
Nose bleeding that started as a result of a blow to the head
Nosebleeds when feeling weak and dizzy
Nosebleeds with breathing problems
Causes of nosebleeds
The inside of your nose is very sensitive and when damaged, nosebleeds occur. Nose damage can be caused by the following reasons:
· Nose shuffling
Forcing the nose while blowing
The inside of the nose is very dry
Nosebleeds that require medical attention usually come from deeper in the nose and usually affect adults. Such nosebleeds are usually due to the following reasons.
Injury or fracture of the nose
· Hypertension
Diseases that affect blood vessels and coagulation
Use of certain drugs such as warfarin
In some cases, the reason behind nosebleeds is unknown.
People in the following groups are more likely to experience nosebleeds:
· Children
· Seniors
Pregnant women
How can you stop nosebleeds?
To treat your nosebleed at home:
Sit or stand upright (do not lie down)
Apply pressure to the area just above your nostrils on your nose for 10-15 minutes
Lean forward and breathe through your mouth
Place an ice pack on your nose
Nosebleed treatment in hospital
If doctors can see where the blood is coming from, they will close the bleeding site by pressing on the bleeding area with a device containing chemicals that prevent bleeding.
In cases where this approach is not possible, doctors may stuff your nose with sponges to prevent bleeding.
What to do when nosebleeds stop
For 24 hours after your nosebleed has stopped:
· Don't pick your nose
· Do not blow
· Do not consume excessively hot drinks or alcohol
· Do not do any heavy exercise
· If there is crust formation, do not tear off the crusts.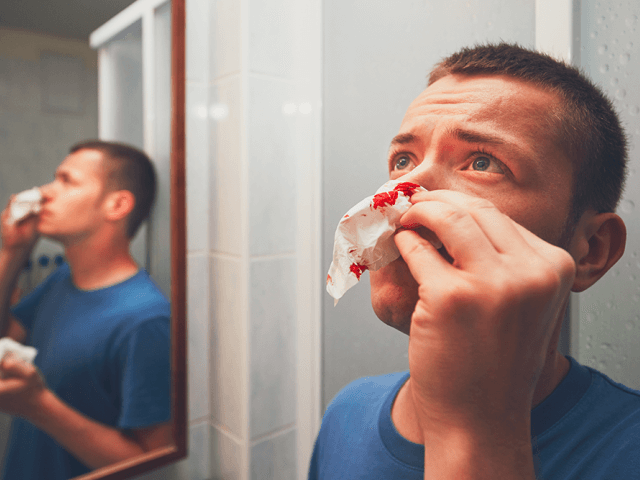 Our Clinical Information
He was born in 1981 in Zile district of Tokat. Starting primary school at Rize Atatürk Primary School, Dr. Deniz Yazıcı continued his education life in the Ergani district of Diyarbakır, since his father's place of duty changed since the 4th grade of primary school.