Allergic Rhinitis
What Is Allergic Rhinitis and What Are Its Symptoms?
Allergic rhinitis is a symptomatic disease that occurs as a natural clinical result of IgE-mediated inflammation in the nasal mucosa, which occurs with allergen contact. Although the disease is traditionally called rhinitis, it often covers the entire upper respiratory tract and conjunctiva, and sometimes the lower respiratory tract.
The cardinal symptoms of allergic rhinitis are sneezing, nasal itching, runny nose, and nasal congestion. However, patients may experience complaints such as watery eyes and itching, sleep and concentration disorders, post nasal discharge, cough, frequent throat clearing, headache, weakness and loss of smell.
How Common Is The Disease? What are the Risk Factors?
Allergic rhinitis is a global health problem. It is known to affect approximately 800 million people all over the world.
It is known that the incidence of allergic rhinitis is between 10% and 30% in adults and up to 40% in children. In European countries, this rate is around 25%.
In our country, the rate of allergic rhinitis was found between 9.7% and 37.7% in different studies. It is thought to be around 20% on average. The incidence of allergic rhinitis is higher in children and young adults.
Atopic diseases such as allergic rhinitis are associated with many genetic and environmental factors. The strongest risk factor for the development of allergic rhinitis is family history. If both parents are atopic, the risk of developing atopic disease in the child is around 50%.
If both parents do not have atopy, this risk drops to 13%. If only one of the parents has atopy, the rate is around 30%.
The month of birth plays a role in the development of allergic diseases. The incidence of allergic rhinitis was found to be higher in children born between August and October. Again, the incidence of allergic rhinitis is higher in men. Air pollution and exposure to cigarette smoke increase the risk of atopic disease. Nutritional habits of people also play a role in the development of allergic diseases. It has been determined that preservatives and food dyes in food, increased sodium intake and decreased fish, vegetable and fruit intake increased the prevalence of allergic diseases.
It has also been determined that childhood obesity increases the incidence of atopic diseases and the frequency of asthma. Interestingly, the rate of children with allergic rhinitis is higher in families with high socioeconomic status and education. It has been determined that encountering house dust mites in the early stages of life is a risk factor for the development of allergy and asthma. The incidence of allergic rhinitis is given as lower in those who have frequent infections in childhood, those who go to kindergartens and in large families.

How Is Allergic Rhinitis Diagnosed?
The diagnosis of allergic rhinitis depends on the match between the history of typical symptoms and the diagnostic tests. Allergy tests are important in diagnosis. However, it is not sufficient by itself to make a diagnosis.
A positive test must be supported and consistent with the clinical history. In some cases, if the test result is negative, if the history and symptoms strongly support allergic rhinitis, it is necessary to support the diagnosis by performing provocation tests on the patient.
The presence of sneezing, runny nose, itching and nasal congestion, which are the main symptoms in the patient's history, brings us closer to the diagnosis. On physical examination, turbinates in patients with allergic rhinitis are observed as edematous, pale and purplish. There is serous discharge in both nasal cavities.
Supratip line (horizontal line just above the tip of the nose), which develops as a result of continuous upward stroking of the nose tip (allergic salute) due to itching and discharge in the nose, can be observed in patients. Mouth breathing is frequent due to nasal congestion.
Darkening may be observed due to the accumulation of hemosiderin under the lower eyelid due to venous stasis (allergic shiner). Due to the continuous spasm of the Müller muscle, horizontal lines (Dennie-Morgan lines) can be seen on the lower eyelid.
Conjunctival hyperemia, increased tear secretion, papillary hypertrophy of the tarsal conjunctiva may be present. In patients with allergic rhinitis, hypertrophy of the tonsils and a cobblestone appearance due to lymphoid hypertrophy in the posterior wall of the pharynx can be detected. The incidence of adenoid vegetation is approximately twice as high in patients with allergic rhinitis.
The tests used in the further diagnosis of allergic rhinitis are skin tests, nasal provocation tests, laboratory tests and nasal smear. The most commonly used test is the prick test because of its advantages such as being simple, inexpensive, easy to apply and reliable.
Serum specific IgE measurement can be made in the blood if the patients are taking drugs that reduce the response of the skin, if there is any skin disease, if the person being tested has a risk of anaphylaxis or if the patient cannot cooperate with the skin test. Total IgE measurement may be normal in approximately 50% of allergic patients. The amount of total IgE is high and the patient may not have atopy. Total IgE level is increased in viral infections, smokers, lymphoma and paracytosis. Studies have shown that in cases where the total Ig E amount is below 10 IU/ml, the probability of having atopy is around 33%, and in cases where this value is above 400 IU/mL, the rate of atopy rises to 99%. A finding in favor of allergic rhinitis in the diagnosis is that the amount of eosinophils above 20% or the amount of mast cells is more than 3% in the nasal smear. More than 100% increase in resistance, more than 5 sneezes, and more than 0.5 ml increase in secretion are considered positive in a nasal provocation test with a specific allergen.
As a result; History and physical examination are usually sufficient to diagnose allergic rhinitis. Further investigations may be required in treatment-resistant patients or in some cases for differential diagnosis.

What is the Role of Allergy in ENT Diseases?
Rhinosinusitis is often associated with allergic rhinitis. 80% of children with rhinosinusitis have a history of allergies. However, this rate is 15-20% in the normal population. The fact that 33-57% of allergen sensitivity was found in studies conducted in patients with chronic rhinosinusitis shows that allergy plays a role in the pathogenesis. Although these studies cannot show a direct relationship between allergy and rhinosinusitis, they reveal that allergy is more common in patients with rhinosinusitis. Therefore, the presence of allergy in the history should be questioned, especially in patients with chronic rhinosinusitis, and skin prick test or specific IgE tests should be requested if necessary. In patients with allergy, the success of the treatment will increase thanks to the antiallergic drugs to be added to the treatment plan.
In epidemiological studies, 50% of patients with Chronic Otitis Media with Effusion (COME) had allergic rhinitis; It has been shown that approximately 21% of allergic rhinitis patients have COME. In a study, middle ear effusions of atopic and nonatopic patients were examined and a significantly higher number of eosinophils, T lymphocytes and interleukin 4 and 5 cells were detected in atopic patients.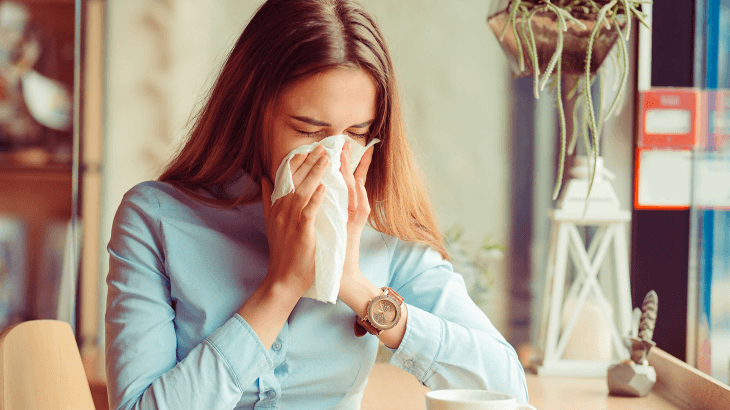 Our Clinical Information
He was born in 1981 in Zile district of Tokat. Starting primary school at Rize Atatürk Primary School, Dr. Deniz Yazıcı continued his education life in the Ergani district of Diyarbakır, since his father's place of duty changed since the 4th grade of primary school.