Middle Ear Diseases
It is an inflammatory disease of the middle ear cavity accompanied by symptoms such as earache, ear discharge, hearing loss, fever. Otitis media is one of the most common diseases of childhood. Approximately 75% of children up to 3 years of age have otitis media at least once. Middle ear infections are usually of bacterial origin. The most common causative microorganisms are S. Pneumonia, H. Influenza and M. Catarrhalis.

WHAT ARE THE SYMPTOMS OF MIDDLE EAR INFLAMMATION?
The most common and most important symptom is ear pain. However, in children younger than 2 years of age, instead of ear pain, restlessness, pulling on the sick ear, constant crying, and loss of appetite may occur. Fever is also a very common finding.

WHAT ARE THE RISK FACTORS FOR MIDDLE EAR INFLAMMATION?
bottle feeding
to be a man
the presence of allergies
have otitis media at an early age
smoking at home
WHAT ARE THE FINDINGS OF MIDDLE EAR INFLAMMATION?
At the beginning of the disease, the eardrum is seen as red in the ear examination. In the later period, due to the inflammation accumulated in the middle ear, an outward cambering is observed in the eardrum besides the redness. Then the inflammation in the middle ear cavity begins to flow out. At this stage, the eardrum is usually perforated. In the hearing test, mild to moderate conductive hearing loss is detected in the patient ear.
TREATMENT OF MIDDLE EAR INFLAMMATION
The use of antibiotics in otitis media is a very controversial issue. Considering the complications of middle ear infections, the use of antibiotics seems wise. Although many sources show amoxicillin as the first choice drug, it is a correct approach to use amoxicillin-clavulanic acid or cephalosporins as the first choice considering the amoxicillin resistance in our country. Antibiotic therapy should last ten days. In the meantime, it is necessary to use analgesics to relieve the patient's pain and reduce fever.
WHAT ARE THE COMPLICATIONS OF MIDDLE EAR INFLAMMATION?
If otitis media is not treated, some complications may occur. These:
acute mastoiditis
facial paralysis
inner ear infection (labyrinthitis)
subperiosteal abscess
petrosite
meningitis
brain abscess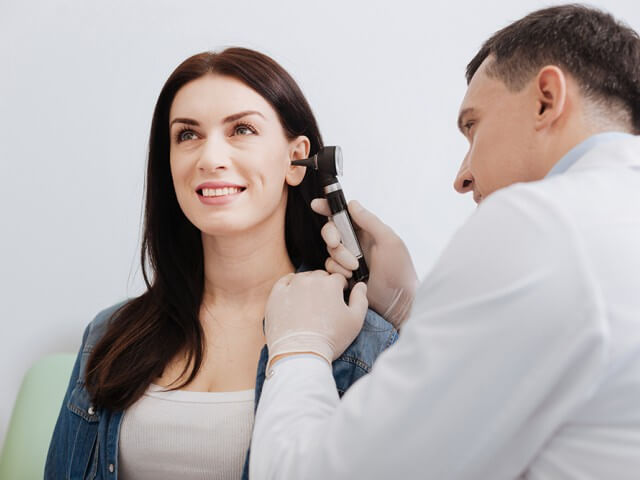 Our Clinical Information
He was born in 1981 in Zile district of Tokat. Starting primary school at Rize Atatürk Primary School, Dr. Deniz Yazıcı continued his education life in the Ergani district of Diyarbakır, since his father's place of duty changed since the 4th grade of primary school.